Please use BACK BUTTON ON BROWSER to return to main list
---


Price= $295.00


OLD 1788 ETCHING OF ARMED WARRIOR AFTER SALVATOR ROSA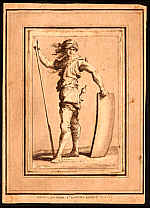 Original old 1788 Etching by Benjamin Green
drawing-master of "Christ's Hospital" School, London
after Salvator Rosa (1615-1673).
This powerful "Warrior holding a spear & shield" etching measures about 6 x 8.25". The technique could be called "Etching & Aquatint."

Etched in the picture itself is "Sal'r Rosa" on the left side and "B. Green P(c or r?)" on the right side. Along the bottom of the margin is printed "Publish'd by BEN'n. GREEN. Xts [CHRIST's] HOSPITAL LONDON Sep 3d 1788."

Benjamin Green (1736-1800) was apparently an engraver and the drawing master at Christ's Hospital school in London.

Salvator Rosa (1615-1673) originally drew the "Warrior-figure."
Rosa "was an Italian Baroque painter, poet, and printmaker, who was active in Naples, Rome, and Florence. As a painter, he is best known as "unorthodox and extravagant" as well as being a "perpetual rebel" and a proto-Romantic."
He was contemporary with and is often considered as the "Italian Rembrandt." Rosa was equally versatile, innovative, and fiercely independent.

This etching was originally mounted at the corners in an old 19th century scrapbook, and thus is not in perfect condition. Most of the damage is in the front & back of the upper right corner where it was previously "attached" in the scrapbook (see scan below of front & reverse). There are also a few old spots & stains (see scan below), but otherwise the etching is in good condition. The paper of the etching is quite sturdy & has excellent rag content.

Quite a beautiful old work of art drawn in the 17th and etched & printed in the late 18th century!




116a1g

Price= $295.00



---
Please use BACK BUTTON ON BROWSER to return to main list
ORDERING INFORMATION
BACK TO HISTORY BROKER HOMEPAGE