Please use BACK BUTTON ON BROWSER to return to main list
---


Price= $950.00




GROUP OF PETERSBURG, VA SLAVERY & CIVIL WAR PAPERS

This small collection of documents comprise mostly slavery & Confederate Civil War related papers from the Petersburg, VA law firm of Alexander & James Monroe Donnan.

There are seven (7) items in this lot.
Scroll down to view them all.

The Donnan brothers were active in handling various aspects of their client's ownership of SLAVE PROPERTY.

Several slavery documents are uncommon in that they don't just represent more common legal documents (inventories, bill of sale, etc.), but rather are unusual letters from slave owners that reveal complex inter-personal dilemmas of slave ownership such as:

--Ill treatment, sickness, physical disability, etc.

--Considerations relative to keeping slave families intact and decently treated.

--Legal issues of selling & hireing out slaves as inherited property / as wealth assets during wartime.

--The increasing expense & impact of wartime conditions upon the institution of slavery in Virginia.



---

Some background information on the Donnan brothers:


ALEXANDER DONNAN

Birth: May 21, 1818 Dumfries, Scotland.
Death: Mar. 14, 1892 in Petersburg.
Married: Alexander Donnan married Anna Eliza Wilson (1827-1912) the daughter of Daniel and Harriet Allan Wilson, in Williamsburg on December 4, 1850. They had nine children, three daughters and six sons.
Buried: Blandford Cemetery, Petersburg, Va.

Alexander was the son and sixth child of David and Mary Stewart Donnan. They brought him to America with his siblings, arriving on October 8, 1818, the year of Alexander's birth.

The family settled in Petersburg where Alexander attended local schools, matriculating to the University of Virginia. He read law under David May, an eminent lawyer of Petersburg, and commenced practice in 1840.

He first associated himself as a partner with Judge William T. Joynes, and subsequently he formed a partnership with his brother, James M. Donnan. They were probably the most sought after lawyers in Petersburg for many years.

During the War, he was a member of the Petersburg City Council.

He was elected to the Virginia House of Delegates. He was Vice President of Petersburg Savings and Insurance Co., and President of Matoaco Cotton Manufactory.

In 1874, he formed the partnership of Donnan and Hamilton with his son in law, Alexander Hamilton, which partnership remained in force to the date of his death.




---



JAMES MUNROE DONNAN

Birth: May 6, 1824 Amelia County, VA.
Death: Jan. 14, 1893.
Married: Virginia T. Donnan
Buried: Blandford Cemetery, Petersburg, Va.

In 1842, he commenced the study of the law in the office of his elder brother, Alexander Donnan. James worked in his brother's partnership of Joynes and Donnan until 1854, and then the brothers practiced law together under the firm name of Alexander & James M. Donnan until 1878.

He served in the Mexican War of 1846, being a volunteer in Captain F. H. Archer's Company of the First Virginia Regiment of Volunteers commanded by Colonel Hamtramck. He was honorably discharged with the regiment at Fort Monroe in 1848.

He was also a volunteer in the Confederate Army, being a member of Martin's Artillery Company of Virginia.

He was appointed from the United States to be US Consul to Belfast, Ireland, serving there from 1873 to 1880 when he returned to Virginia.

Prior to the Civil War he was a Whig in his political affiliations, whose bitterest political foes were the Democrats, so after the war he would have nothing to do with the Democratic Party and allied himself strongly with the Republican Party.

He was an exceptionally upright man, strong in his convictions, unflinching in his position, and noted for his courage and firmness of character.



---
The seven documents in this lot of papers are as follows::



---

1) A CONFEDERATE SOLDIER
WISHES TO

HIRE-OUT TWO LITTLE BOYS

JOHN & GEORGE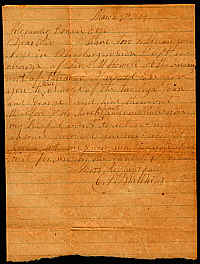 1864 LETTER & POA TO DONNAN --

"I have two little Negro Boys in Petersburg"

"Left in charge of Mr. E. M. Howell at the breaking out of this war"

"Hire them out"




--One page letter, 5.75 x 7.5"

--Light ink on lined white paper.

--Small envelope (2.5 x 4") addressed to: "Alexander Donnan Esq." [written faint]

--Fold lines, a little faded, otherwise good condition on typical war-date paper.




TRANSCRIPTION:





March 7th 1864

Alexander Donnan Esq.
Dear Sir

I have two little Negro Boys in Petersburg
which I left in charge of Mr. E. M. Howell at the breaking out of this war.

I would like for you to take charge of the two boys (John and George) and hire them out.

Therefore I do hereby appoint and constitute you my lawful agent to act in my absence provided you will accept.
Please let me know whether you will attend to it for me by the earliest opportunity.

Most Respectfully
C. P. Mathias



--CORNELIUS P. MATHIAS (1835-1865) residence was listed as Market Street, Petersburg, Virginia when he enlisted on 5/8/1861 as a Private in "B" Company, 12th Virginia Infantry Regiment. He was wounded on 8/19/1864 in the battle for the Weldon Railroad. He was a POW at Point Lookout, MD, and died there of Scurvy on 4/6/1865. He was buried in Point Lookout prison cemetary. In 1860, Mathias was a partner in Mathias & Godfrey Grocers, Rock St. opposite Market Square. He lived over the store.

--E. M. HOWELL was probably Elijah M. Howell (1819-1862), son of Edward & Mary Howell. He was married to Indiana V. Morrison in 1861 in Petersburg, Virginia. He is buried in Blandford Cemetary.
[Please scroll down to bottom of image to view entire letter]

---
2) HIRE THE BOY HENRY





1861 LETTER TO DONNAN --

"The boy states he received a hurt in his hip last year"

"His wife is so far from him"

"We would like to hire him at a fair price if he wished to return"




--One page letter, 8 x 9"

--Pencil on unlined white laid-paper.

--Fold lines, tears around edges (see scan).




TRANSCRIPTION:





Dec 25th '61

A. & J. M. Donnan esq.
Gent,

Your note to my mother in relation to the boy Henry is received

and in answer I would say that the boy states he received a hurt in his hip last year
which greatly inconveniences him, and which detracts from his value.

Except this hurt (of which I knew nothing when he was hired here)
and the fact that his wife is so far from him,
we would like to hire him at a fair price if he wished to return.

You can see the boy and learn from him his condition
and if not inconsistent with your arrangement –
can write me tomorrow what you would take for him and I will reply tomorrow evening whither I will take him.

I may say however in advance that –
we could not give anything like the price of last (that is this) year
and if you expect anything like that – it would be unnecessary to write at all.

Please understand if you write by the morning train on the S.S. to Ford(?),
and I will answer your letter by the evening train.

The boy has his clothes except his hat which can get for him and I will pay for the same.

Respectfully,
R. C. Ford(?)





[Please scroll down to bottom of image to view entire letter]



---
3) SLAVE RACHAEL

SUFFERS FROM EXTREME EDEMA

[Probably Caused by Malnutrition]




1864 STATEMENT BY MEDICAL DOCTORS --

"We have carefully examined a Negro Girl by name of Rachael"

"We find her suffering from general ANASARCA of long standing"




--One page letter, 5.5 x 8.75"

--Faded ink on lined brownish paper of good rag content.

--Fold lines, severely stained & faded (see scan). Difficult to read.




TRANSCRIPTION:





Petersburg

Sept. 22nd 1864

This is to certify that we have carefully examined a Negro Girl by name of Rachael
at this time owned by J. T. Crowder

and that we find her suffering from general anasarca of long standing
from every symptom that we can discuss in this case.

C. B. Hilliard MD
J. W. Harris MD



--ANASARCA OR EXTREME GENERALIZED EDEMA, is a medical condition characterized by widespread swelling of the skin due to effusion of fluid into the extacellular space. It is usually caused by liver failure (cirrhosis of the liver), renal failure/disease, right-side heart failure, as well as severe malnutrition/protein deficiency.

--J. T. CROWDER was possibly J.T.M. CROWDER (c1836-1905), born in Petersburg City and buried in Blandford Cemetary. He married Susie J. Crowder (c1870-1893) from Sussex county, VA.

--C. B. HILLIARD was possibly CAMILLUS B. HILLIARD (1837-1875) son of CSA General Henry Washington Hilliard (1808-1892) and Mary Bedell Hilliard (1813-1867). Camillus served as a Surgeon in the Confederate army.





[Please scroll down to bottom of image to view entire letter]



---
4) THANKING ANDREW JOHNSON

PRESIDENT OF THE UNITED STATES

FOR A PRESIDENTIAL PARDON




1865 ROUGH-DRAFT OF A LETTER SENT BY DONNAN --

"To his Excellency Andrew Johnson"

"Receipt of the President's Warrant of Pardon"




--One page letter [likely a ROUGH DRAFT], 7.75 x 9.75"

--Dark ink on unlined white paper of good rag content.

--Addressed on reverse: "To His Excellency Andrew Johnson – President of the US – Washington DC"

--Fold lines. Otherwise good condition.




TRANSCRIPTION:
[Crossed-out portions of the letter are enclosed in brackets]





Washington City D.C.

Sept 1865

To his Excellency Andrew Johnson
President of the United States

I have the honor to acknowledge the receipt of the President's Warrant of Pardon
[granted me by you]
bearing date on the ________ 1865 and hereby accept the honor upon the terms and conditions therein expressed

[I accept the terms and conditions of the same as expressed]
[With sentiments of high respect]

I am most Respectfully Yr Obt Servant,
Alexander Donnan
Petersburg Va



-- ANDREW JOHNSON (1808-1875) was the 17th President of the United States, serving from 1865-1869. Vice President Johnson became president upon Abraham Lincoln's assassination.

--PRESIDENTIAL PARDON -- on May 29, 1865, President Johnson issued an amnesty proclamation. Under this proclamation any former Confederate who had not already taken advantage of President Lincoln's 1863 amnesty proclamation, could receive amnesty upon their taking an oath to defend the Constitution and the Union, and to obey all Federal laws and proclamations in reference to slavery made during the rebellion. President Lincoln's 1863 amnesty proclamation had similar requirements.



[Please scroll down to bottom of image to view entire letter]



---
5) COMPLAINT OF STOLEN MONEY

TO THE POSTMASTER GENERAL
OF THE UNITED STATES




1858 LETTER SENT BY DONNAN --

"To the Honorable Post Master General"

"TWO losses of money which have recently occurred"

"An investigation ... to detect if possible the transgressors"




--One page letter, 7.5 x 10"

--Dark brown ink on lined brownish paper.

--Dark-brown Envelope addressed to: "To the Honorable Post Master General – Washington City D.C."

--Fold lines. Paper is a bit wrinkled. Otherwise good condition.




TRANSCRIPTION:





Petersburg, Va

February 6th 1858

To the Honorable Post Master General
Washington D.C.

Dear Sir

We beg most respectfully to call the attention of your department
to TWO losses of money which have recently occurred.

On the 21st of November 1857 we enclosed to Mr. George Brown
President of Madison College Uniontown Pennsylvania $127.
That letter never went to hand.

Again on the 5th day of December 1857 we enclosed to Jane Allen $20.
That letter was directed to her at Nashville Tennessee.
We have this evening learnt that that letter has never come to hand.

These letters were deposited in the Post Office here on the days stated above with the Money In Them.

We feel constrained to call the attention of the department to the subject
and trust an investigation may speedily be set on foot to detect if possible the transgressors.

Please do not overlook this matter.

Very Respectfully,
Alexr & Jas M. Donnan



--REV. GEORGE BROWN served the Methodist Protestant Madison College in Uniontown, PA as the president of the board of trustees. The relatively small denomination of the Methodist Protestant church split over the issue of slavery in the mid-1850s, and the membership of each sectional group was not sufficiently large to support the number of colleges. In 1855, the president, faculty and many students at Madison College resigned and left with the intention of establishing a school somewhere in the South (from where they drew most of their patronage). Brown was appointed president and professor of mental and moral philosophy and he set out to hire new faculty and keep the college open. From 1855 till 1858, Brown and the friends of Madison College made valiant efforts to keep it in operation. Brown traveled widely seeking patronage for the institution, and he served as president without salary. However, lack of funds & support prompted the trustees to close the college during the winter of 1857-1858 and sell the college property to satisfy creditors.





[Please scroll down to bottom of image to view entire letter]



---
6) IMPOVERISHED WIDOW

WANTS POSSESSIONS BACK FROM CAPT LEDBETTER




1863 LETTER SENT TO DONNAN --

"I think it was a very ungenerous act anyway to sell my things"

"FOR I AM A POOR DEPENDENT WIDOW"




--Three page letter, 4 x 5.5"

--Dark ink on lined brownish laid-paper of good rag content.

--Fold lines. A bit ragged along right edge. Otherwise good condition.




TRANSCRIPTION:






Jerusalem

May 19th 1863

Mr. Donnan
Sir

When my husband Bolivar T. Henderson died in Petersburg he left some debts unsettled.

I had a good many things up there
and Capt. Ledbetter had them sold unbeknowing to me,
and made a complete sacrifice of them.

I consulted with lawyer Kendrell about the matter,
and he said they had no right to sell them. Only for rent,
and that I could have them sold over.

So I wish you to attend to it for me and I will pay you for your trouble.

I think it was a very ungenerous act anyway to sell my things,
for I stand very much in need of them.

I wish you to reserve the bed for me,
and put the remainder of the things up at public auction
and make them bring all you can.

FOR I AM A POOR DEPENDENT WIDOW.

Hold the bed for me and if there is any money liking let me know.

Please attend to it as soon as possible and you will oblige me.
Very Respectfully,
Rosa J. Henderson

ps There is a statement of what things were sold.



--Captain Ledbetter, Bolivar T. Henderson & Rosa J. Henderson not found but merit further research.



[Please scroll down to bottom of image to view entire letter]



---
7) CSA TROOPS UNDER GENERAL FRENCH

DAMAGED A FARM




1862 LETTER TO DONNAN --

"See Gen'l French & come to something definite"

"Damage done the farm of Mrs Armistead in Prince George City"

"Trees that have been felled"

"Depriving it of its woodland"




--One page letter, 8 x 10"

--Dark ink on lined blue paper of good rag content.

--Addressed on reverse: "Mr. Alex Donnan -- Present"

--Fold lines. Somewhat stained on reverse. Otherwise good condition.




TRANSCRIPTION:





Petersburg 16th Sept '62

Mr. Alex Donnan
Dear Sir

I would be glad you would see Gen'l French & come to something definite
relative to the damage done the farm of Mrs Armistead &c in Prince George Cty.

Presume the damages will have to be appraised by one or more persons
(Viz) Gen'l French appointing one person & I the other.

The trees that have been felled in the place if the Government wishes the wood,
there can be no difficulty about it, as they will of course take it at its valuation.

Another damage done the place is depriving it of its wood land
that is absolutely necessary for fire wood & rail timber for a series of years,
thereby subjecting the owner to an annual expense for the same.

I have no doubt from the justice of the claim
that Gen'l French will take immediate action in the matter
& bring it to a speedy settlement.

Yours Very Respectfully,
Wm H. Armistead trustee for Mrs. Va Armistead &c
By F. Armistead



--GENERAL SAMUEL GIBBS FRENCH (1818-1910) arrived in Petersburg during the summer of 1862 and by late August was in command of the Department of North Carolina, with headquarters in Petersburg, Virginia. He remained in department or district command in Petersburg through May 1863.

--FABIAN ARMISTEAD (1794-1865) was the son of John Armistead & Elizabeth Royster. He was a farmer in Prince George County, VA. He married VIRGINIA Harrison (1805-1881). They were both buried in Blandford Cemetery in Petersburg, VA. Their children included William Harrison Armistead and Fabian Harrision Armistead.



[Please scroll down to bottom of image to view entire letter]





Price= $950.00



---
Please use BACK BUTTON ON BROWSER to return to main list
ORDERING INFORMATION
BACK TO HISTORY BROKER HOMEPAGE