Please use BACK BUTTON ON BROWSER to return to main list
---


Price= $3500.00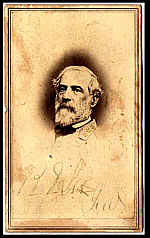 GENERAL ROBERT E. LEE
Carte de Visite photograph
Signed: "R. E. Lee Genl"
From an album owned by Bessie Johston Gresham:
An unmarked CDV -- with wartime "R.E. LEE GENL" signature on front
and illegible note or inscription on reverse.

--It is rare to find the wartime "Genl" title included in Lee signatures on cdv.
He did not write "Genl" when signing his name after the Civil War ended.
This is definately a WARDATE SIGNATURE.


--This portrait is one of the Vannerson "blockade" portraits.
Early in 1864, Lee sat in Julian Vannerson's gallery for a series of photographic portraits to be sent through the blockade to Virginia sculptor, Edward V. Valentine, then studying in Berlin. Valentine was to make a small statue of General Lee for sale at a Liverpool bazaar for the benefit of disabled Confederate veterans. The exact date of taking is unknown, though Valentine received the photos on 5 May 1864.

--It is perhaps interesting to speculate just what was written on the reverse of this cdv, whether it was in the hand of Lee, and whether it has just faded or was purposely erased.

--Photo measures about 2.5 x 4" and is in condition as shown in the first scan below.
As shown, General Lee's SIGNATURE IS QUITE LIGHT!

The LIGHT SIGNATURE is a negative, however positives include its definite "war-date" origin and the cdv's interesting provenance from the Bessie Johnston Gresham collection (described more fully below).

THE SCANS BELOW SHOW:


-FIRST (at top), the cdv & signature about as they visually appear
(notice the LIGHT signature!),
-SECOND, a computer-enhanced (darkened) view of Lee's signature,
-THIRD, several views of the reverse side of the cdv.




[Please scroll down -- more info beneath photo]





--ALSO INCLUDED WITH THIS CDV
is an old photographic facsimile copy (c1900-1920s) of an 1869 letter written by Robert E. Lee
to young Bessie Johnston from the White Sulpher Springs in West Virginia.

In this letter Lee states that he was enclosing a photograph of himself to Bessie
(whom Lee had apparently met during an earlier visit to the Springs).

The photo Lee mentions in this letter may NOT
be this signed wardate CDV from Bessie's album,
but the copied letter shows that indeed:
"During her girlhood Miss Johnston was acquainted with many Southern generals and received from them letters, PHOTOGRAPHS, and autographs ..."

The photographic facsimile of the letter measures about 5.5 x 8.5" and is in good condition on heavy photo-stock paper.


Lee's letter is transcribed as follows:


"White Sulpher Springs, Va
23 Aug 1869
My Dear Miss Bessie
I send a stereoscopic view of the Springs, the only one I could get. I hope it may serve to recall sometimes a spot to the insides of which you have given so much pleasure.

I also ENCLOSE A PHOTOGRAPHIC PICTURE of an old man who will think often of you and whom I do not wish you to forget.
Most truely,
R.E. Lee

Miss Bessie Johnston"


[Please scroll down to bottom of photograph]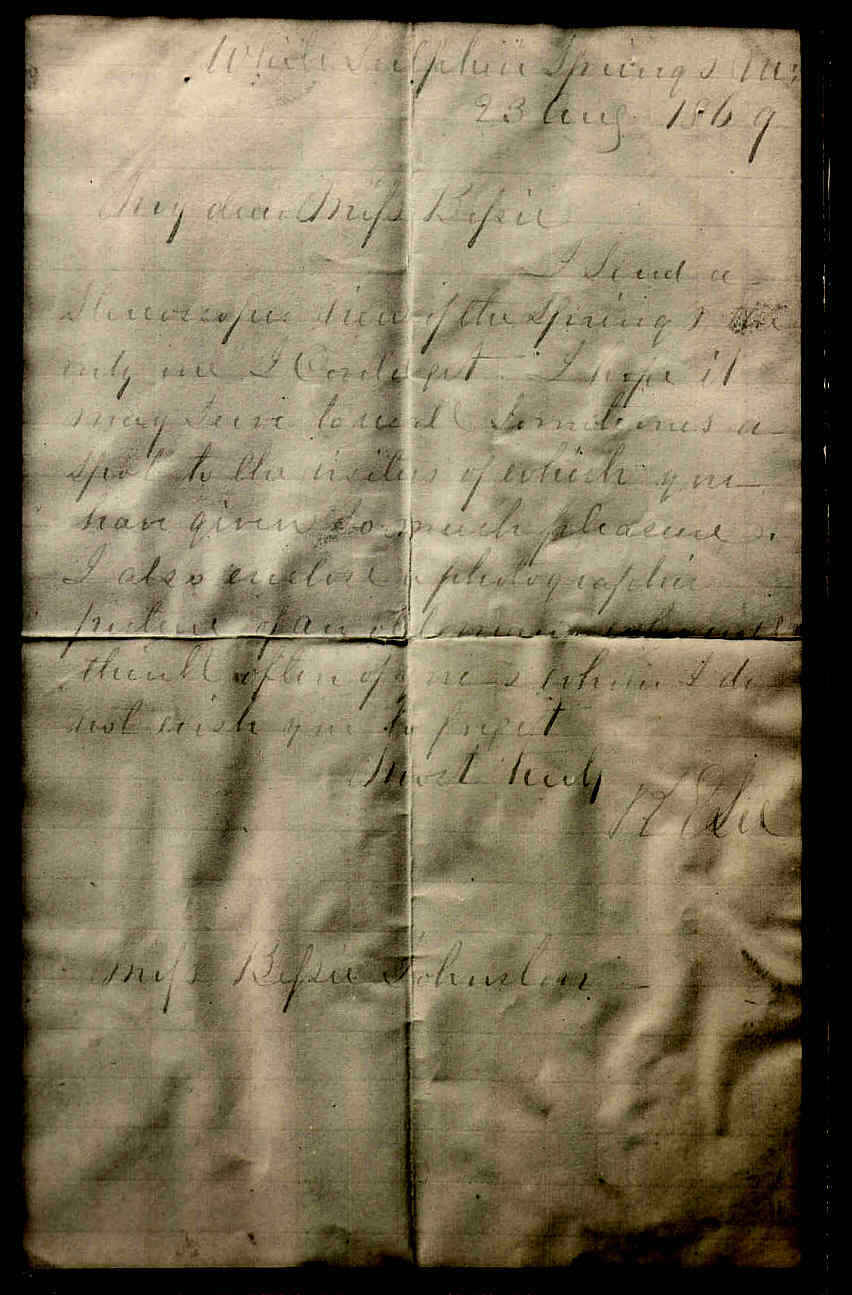 ---
As previously mentioned, this wardate-signed photograph of General Lee came from a CDV album kept by BESSIE JOHNSTON GRESHAM, and the now-illegible inscription on the reverse was possibly from Lee to Bessie (or to her brother Elliott):

BESSIE ELIZABETH JOHNSTON (1848-1926)
of Baltimore, Maryland was reared in a home atmosphere of deep sympathy for the Southern Cause. One of her brothers was imprisoned in Baltimore for aiding the South. Her brother Elliott fought for the South as a Confederate officer and lost a leg at the battle of Antietam.

Bessie became an ardent and unreconstructed Confederate.

In 1887, Bessie married Thomas Baxter Gresham, a Confederate veteran from Macon Georgia.

Bessie Gresham was active in the Baltimore chapter of the United Daughters of the Confederacy, and amassed a notable collection of Confederate manuscripts and relics at the Gresham home at 815 Park Avenue in Baltimore. Most of her items were left to the Museum of the Confederacy, the Maryland Historical Society & other institutions.

In 1926, CONFEDERATE VETERAN MAGAZINE printed Bessie Gresham's obituary:
MRS. THOMAS BAXTER GRESHAM – IN MEMORIAM
CONFEDERATE VETERAN, Volume XXXIV, p. 149.

In the death of Mrs. Thomas Baxter Gresham, which occurred February 21, 1926, Baltimore Chapter No. 8 and the Maryland Division, U. D. C. have sustained a great bereavement.

She was the daughter of Thomas Donaldson Johnston, of Baltimore, and lived her entire life in this city. Miss Johnston married a brave and gallant soldier of General Lee's army, who survives her. One of her brothers, who was on General Ewell's staff, suffered the loss of a leg at the battle of Sharpsburg: her two other brothers were active Southern sympathizers and were under constant surveillance by Federal authorities for giving all possible aid to the Confederacy; her home was a center from which radiated help. Reared in this atmosphere of deep love for our "cause," she became an ardent and unreconstructed Confederate.

During her girlhood Miss Johnston was acquainted with many Southern generals and received from them letters, photographs, and autographs, also a number of gifts. A large portion of these mementos she presented to the Maryland Historical Society, where they are greatly treasured and occupy a valued space.

Mrs. Gresham was the last surviving charter member of the United Daughters of the Confederacy in the State. The Baltimore Chapter of the Society was organized in the parlors of her home, and she was a member of the governing board from its inception and for many years its Recording Secretary. It was owing to her efforts that the design for the Confederate monument by F. Wellington Ruckstull, was submitted to the Daughters in Maryland. She helped to secure the erection of the woman's monument and contributed generously to the Stone Mountain fund.

In the passing of this valued officer, whose loss we deeply deplore, one has gone from us whose convictions ever remained unchanged. The flower of Confederate loyalty and devotion took root and blossomed in the soil of her soul, grew and spread its fragrance over her entire life. We mourn her demise, but having "crossed over the river,"we are glad in the assurance that she now enjoys perfect peace and rest eternal in the presence of Almighty God.
[Mrs. Preston Power, Editor, Maryland Division, U. D. C.]




Price= $3500.00



---
Please use BACK BUTTON ON BROWSER to return to main list
ORDERING INFORMATION
BACK TO HISTORY BROKER HOMEPAGE